PAEDIATRIC NUTRITION & WHOLE FOOD BASICS - PERTH SEPTEMBER 25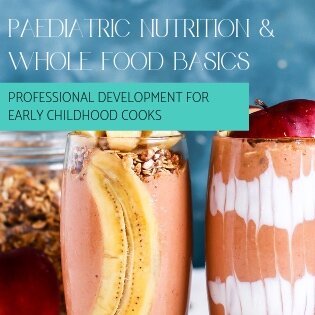 PAEDIATRIC NUTRITION & WHOLE FOOD BASICS - PERTH SEPTEMBER 25
DATE
September 25 2019
TIME
1:00 pm - 4:00 pm
VENUE
Stirling Community Centres – Jim Satchell – Dianella
ADDRESS
1 Light Street
Professional development for early childhood cooks
This course will give your cook the knowledge they need to create a menu that is not only nourishing for your children but also provide you with a fantastic marketing tool that will set your centre above the industry standard.
What is it?
Professional development training focusing on the nutritional needs of the 0-5 age group, designed specifically for the needs and demands of early childhood services.
Who is it for?
Every early childhood service that's ready to make a real difference in the health of their children. Cooks, Food Coordinators & Centre Managers.
TOPICS COVERED
Whole Food Basics
We start by taking you through the basics of transitioning into a whole food kitchen. Here you will learn what whole foods to start with and most importantly, how to use them. You will also discover the importance of nutrient dense foods for young children and how food impacts a child's delicate digestive and immune systems.
Managing Food Allergies
Understanding food allergies is becoming increasingly important and education is key! We will cover the most common food allergies/sensitivities and show you how to simply and easily make menu changes to suit the needs of specific dietary requirements.
Nourishing our Babies
The dietary requirements of the 0-2 age group are very different to those of older children. Babies have very delicate, immature digestive systems and their diets need to reflect this in order for them to thrive. Here we will take you through the specific do's and don'ts of the 0-2 age group and how to easily cater for their needs in a busy child care kitchen.
Menu Planning & Nutritional Requirements
If you can properly plan your menu's, your day's will be much less stressful. Here we look at how to plan your menu's whilst taking into consideration your budget, food allergies, time and nutritional requirements.
Includes handouts, cooking demonstrations and taste testing
Please bring a pen and a bottle of water.
Cost: $97.00 (incl gst)
*Please arrive by 12.50pm to ensure a prompt start time.
"It has been a delight to work with someone who has such extensive knowledge and the ability to easily share this with all of our teachers, parents and children! We have had fantastic feedback from the communities our centres are based in and really believe we are making a positive impact on the health and well-being of our children. We look forward a long a successful relationship!"
Ben Hurst – Managing Director, Little Wonders Childcare
If you're ready to raise the bar in early childhood nutrition by educating your staff and giving them the tools they need to succeed, then don't miss out on this opportunity to learn from someone who has been in your shoes!
Presented by:
Katie Harding
(Nutritionist & Naturopath)

Nourished Beginnings was founded by Katie Harding, a Nutritionist, Naturopath, whole food enthusiast and mother of two beautiful girls. Katie works with early childhood educators throughout Australia and New Zealand in implementing healthy menu's. She also provides nutrition and whole food training to early childhood cooks, educators, teachers and management with a mission to raise the bar in early childhood nutrition.
REFUND POLICY
Please note that once payment has been made, no refunds can be issued. You may however transfer your ticket to another staff member or another centre. Please email katie@nourishedbeginnings.org to discuss a transfer.
Please email katie@nourishedbeginnings.org with any questions.